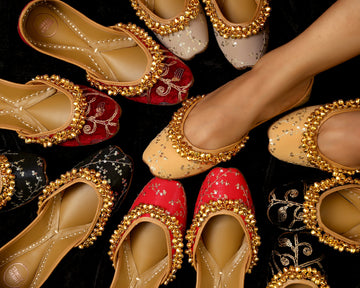 Welcome to Thread Stories.
Trying to create a new shopping experience since 2018.
The art of making juttis has been an age old craft that has been brought down by generations and today has accomplished in achieving a major position in the fashion world. We at Thread Stories bring to you an exclusive collection of designer handcrafted leather juttis crafted by artisans who excel in their craftsmanship. Every jutti is carefully handcrafted by these immensely skilled artisans using the finest quality of leather,fabric and embellishments, to get to to you "the perfect pair" . The juttis fit like a dream, taking the shape of your feet and giving you a snug fit. Our designs are results of carefully thought ideas and patterns that would perfectly cater to our client's expectations. We, by our designs, try to give the Indian designing a tinch of modern touch, that would make it stand out , thus create a pair that you would love to own!

We do offer our client's a special service of getting their juttis customized, putting in their ideas and working to get their ideal pair to life! Our designing team would get in touch with you, and have your demands fulfilled for the same. Since a while of our inception, we have garnered lots of love and appreciation for the collections, style and affordability of our beautiful juttis. We cater to different tastes of customers by offering them the finest quality of leather footwear in prices that would'nt put a hole in their pockets! Incase you haven't tried our juttis yet, grab one at the earliest and you're sure to fall in love!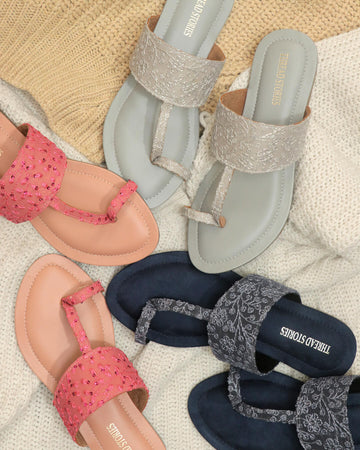 We are 100% made in
India Brand.
Soft Fabric

Curated by selecting the finest of fabrics for our footwear, to give you the comfort and feel you desire.

Lightweight

We keep in mind the footwear is lightweight and has a steady and light sole so you can stay in them from day to night!

All Day Comfort

Our footwear is made from the finest materials and cushions to give you all day comfort at affordable prices.
100% Handcrafted by highly skilled craftsmen. Every pair is quality checked before packaging. We ensure that there is no compromise on quality and at the same time we maintain the highest standards so that you feel comfortable while wearing our Juttis.
Footwear for all events, emotions, and vibes.
The Face & Mind behind Thread Stories🥰
Founder & CEO
Ms. Rohini Hans
A 22-year-old, created thread stories with the vision to make the brand happen and stand out among the crowd and that is exactly what thread stories have been doing since its conception.

Rohini Hans, a hotel management graduate from IHM Mumbai, is the face and mind behind Thread Stories. She set out to make a fruitful and successful career for herself, and she succeeded admirably. She took use of her particular passion for fashion. By conducting an in-depth study on numerous market trends, she turned her enthusiasm and interest into a meaningful proposal. This is what inspired her to launch Thread Stories, a brand that started off selling solely women's juttis but has since evolved into a comprehensive footwear line with shoes for all events, emotions, and vibes.
Featured in






Super super amazing!
"Super super amazing! From last so many years i have been purchasing from you, and everytime i get compliments for the design and quality of juttis .. more on the way.. thank you❤️"
Aayushi Rawat - Madhya pradesh
The jutti is amazing
"Thank You Thread Stories
The jutti is amazing, perfect match with my red bridal lehenga "
Aahana Nayak - Uttar Pradesh
They are very comfortable
"Thank you for the pairs! Products and quality is as superb as ever! They are very comfortable to wear as well! "
Rise and shine
"The jutti is awesome, the detailing, intricacy, quality and size is too great in this price range
Rise and Shine"
Henan Aisha - Jammu & Kashmir
You rule my heart
"I can wear my juttis everyday.
Threadstories, you rule my heart and my shoe wardrobe"
Elevates the look completely
"Love the flats! These are so versatile, couldnt be more happier to wear this with every outfit , elevates the look completely"
Nikita Panchamia - Mumbai